Developer Log
2019/08/22 08:57 UTC
New textboxes.
These are the latest changes I've added to the tool:
Improved textboxes. Now, textboxes can have borders, backgrounds, internal rotation of texts, colors and shapes.
A few more bugs related to setup and configuration files.
2019/08/01 13:06 UTC
L3 network diagrams and new floors with transparencies.
These are the latest changes I've added to the tool:
L3 diagrams:

Elements (vrfs and l2 segments) can now be rotated and scaled.
New floors can be added and configured.
Text and symbols can be added and modified.

Floors: added a new set of textures including grids with transparency.
Floors: added opacity field. You can now make a floor semi-transparent.
Background: the color of the background can now be changed ("settings" tool and then click on the background)
Support for Microsoft Edge. This browser was not working before.
A few more bugs related to setup and configuration files.
2019/07/26 11:35 UTC
We are moving to https://www.networkmaps.org.
I'm pleased to announce that we are changing the domain name we use on the internet to https://www.networkmaps.org
As the current project is called networkmaps and it is an opensource project, it seems logical this change to make it clear what is the project and it's purpose. I hope this doesn't create too much confusion in the begining.
We will maintaing the domain masshandra.com as well as contact information for a long time to make the trasition easier. Also the website https://www.masshandra.com is now redirected to https://www.networkmaps.org.
It will take a few days to have everything ready pointing to the new domain.
2019/07/21 16:05 UTC
Support for tablets or phones (touch devices).
Now, diagrams should be accessible and editable from phones or tablets!!!
2019/07/20 07:30 UTC
Auto generated L3 diagrams.
We finally have our auto generated L3 network diagrams.
These diagrams are automatically generated from our L2 diagrams based on the devices, links and the configuration of each one of these:
VRF
Vlan List
Layer2 (switch ports) and layer3 (router ports) information added to links.
There are still several missing parts:
Layer 3 elements can be moved but not rotated or scaled.
Add new floors, text or symbols to L3 diagrams.
Access L3 information from the L3 diagrams
And many more actions I'd like to add to them.......
I'll continue working on this for the next few weeks.
2019/06/29 15:05 UTC
New version released.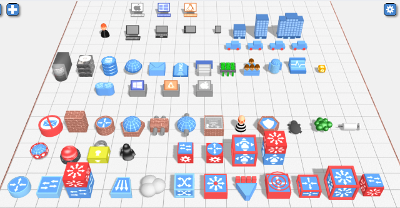 We finished the new version. The main addition on this version is the full collection of icons for the diagrams. We've also added:
Remove the dependency on mysql. Now the application doesn't use mysql as user database (check documentation to know how to migrate).
Grid system to make it easier to align icons. By default the grid system is enabled. You can configure it or disable.
Fix some bugs when removing floors, adding links, ...
Now device names rotate with you so they are always looking at the camera. This makes it easier to read them.
Next:
We will start with the autogenerated L3 diagrams based on L2 information and config of devices.
Add lines are symbols
Investigate how to run the application on containers
Also, let me know what you would like to see.
Are you interested in anything special? Let me know: pablo@masshandra.com
2019/06/09 10:05 UTC
(again) New icons for diagrams.
I'm still working on new icons. Most of this work is already done. I'm only missing the security section.
Also, added a grid system to help on placing properly objects, that can be activated on the settings. Also several bug fixes. Thanks to everyone for reporting these.
All these changes can be found on branch v0.1. It will be merged in 1-2 weeks once all icons are finished.
2019/05/23 7:30 UTC
New icons for diagrams.
Added new symbols for the diagrams. These can be found on branch version v0.1.
Basic shapes like spheres, cylinders, ...
Network symbols: cloud, atm, terminal servers, virtual routers, vxlan, mpls, ...
Clients: users, laptops, desktops.
Also, some bug fixes.
Next: I'll continue adding more symbols: finish, clients, then servers types and security devices.
2019/04/26 13:36 UTC
New device basic icons and floor shapes.
I've added a few new features and fixes:
The shapes of floors can now be changed. I've added 4 options: ground, platform, floating platform, no border.
Reorganize the "Add Device" menu to accomodate the future increase of shapes. So now, when adding new devices, there are some categories: basic shapes, network devices, servers, clients or security devices. Within these categories, we will add different shapes to identify different type of devices.
Basic shapes are now available. Cubes, cones, cylinders, ...
Device shapes that are still not available will appear with question marks and if used, they will for now, be shown as cubes. As soon as these shapes are available, they will change into the right shape.
Some improvements have been added to the GUI, like better reaction to interaction with sliders.
Bug fixes. When changed the height of floors, some shapes were not correctly placed. When rotating a floor, connections where not correctly redrawn.
2019/04/13 7:53 UTC
New features on our network diagrams.
Latest changes have been deployed on the app. This includes:
Devices can now store information on vlan, svi, vrf and loopback interfaces.
Links, can now store the interfaces they are associated with, as well as layer 2 and layer 3 information
Some improvements onto the windowing system like description of the different fields.
Fixed some bugs.
I will be dedicated now, for a period of time in adding new symbols to diagrams. New type of network devices, servers, security devices, ...
After that, I'll move onto the auto-generated L3 network diagram and then, support for network protocols.
2019/04/10 23:23 UTC
Vlans, L2 and L3 Interface and VRFs.
I am currently working on giving support to defining the vlans, svi, loopback and L2, L3 interface on the network diagrams. I expect this to be ready by end of this week. So most likely, it will be published this weekend.
Once this is ready, I'll proceed to work on two parts:
Semi Auto-generated L3 diagrams based on the data configured on the L2 diagram.
Add new symbols. I still have to decide what new symbols can be most useful. Probably, more types of network devices, servers and security appliances. If you have any sugestion, let me know.
2019/04/01 23:23 UTC
Networkmaps. The open source online diagram editor.
These are the features that, on a high level, I expect or would like to have on this tool:
Edit network diagrams using a browser. Accessible from anywhere at anytime.
The tool should allow for several people to collaborate at the same time on the same network diagram.
Edit all features of a network on the L2 view. The elements of the L3 view should be automatically generated, leaving to the user the placement of these elements
There should be an api to access all functions so it is easy to automatically create network diagrams based on existing data.
Anyone can get the source code and have the tool running on a server of their own.
(this is more a wish) Once a diagram is created, the tool should be able to generate configurations for the different devices on the diagram for several vendors.
Secure. Support for HTTPS or HTTP. User authentication and authorization. Diagrams should only be accessible for whoever the owner wants.
If there are more features you'd like to see, send me an email.